We've provided some website links that you may be interested in visting …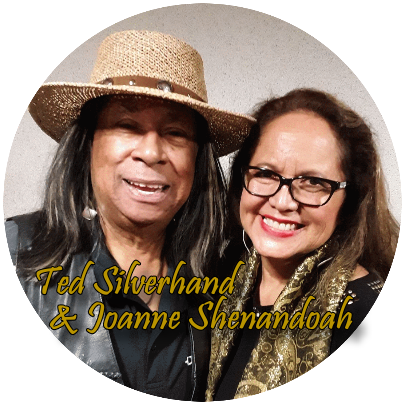 Joanne, a friendship that lasted over thirty-seven years, her music will last many lifetimes to come!
A Grammy and 14 time Native American Music award winning artist, Joanne Shenandoah, a Wolf Clan member of the Iroquois Confederacy, has fulfilled the promise of her Native American name, Tekaliwah-kwa, (She Sings).  She became one of the most acclaimed Native American recording artists of her time.
Jimmy wolf is a singer-songwriter-guitarist who brings a new and exciting energy to the world of blues and rock. He takes the delta-chicago blues, 50's rock and R&B then mixes it with chainsaw guitar and overdriven voice to create a soulful music experience. Jimmy toured with Jimmy "fast fingers" Dawkins, Bill Doggett, and Larry "texas flood" Davis.
Pura Fé, whose name means "Pure Faith," is Ted's cousin, she was born in New York City and an heir to the Tuscarora Indian Nation. She is an artist, an activist, and much more. Pura Fé won a Nammy (Native American Music Award) for Best Female Artist for 'Follow Your Hearts Desire'. She also won an L'académie Charles Cros Award (French Grammy) for Best World Album for her 'Tuscarora Nation Blues' album.
Rhiannon Giddens uses her art to excavate the past and reveal bold truths about our present. A MacArthur "Genius Grant" recipient, Giddens co-founded the Grammy Award-winning Carolina Chocolate Drops, and she has been nominated for six additional Grammys for her work as a soloist and collaborator.
Home of the Genuine Thunder Podcast, The Trinity Files and Thunder Sessions. The Genuine Thunder platform was created to bring universal knowledge together.  There are many just coming into the awareness of their journeys, they have the spark within, their inner voice telling them that there's more to this life. If you're ready to unlock the door to your true spirit existence, then you'll love the Genuine Thunder experience!
Rolling Thunder Revue: A Bob Dylan Story by Martin Scorsese.
Netflix released the Bob Dylan documentary "ROLLING THUNDER REVUE" based on his 1975 tour. In the video they visit the Tuscarora Reservation and he meets up with Mad Bear. Rolling Thunder Pope also speaks (voiceover) in this documentary.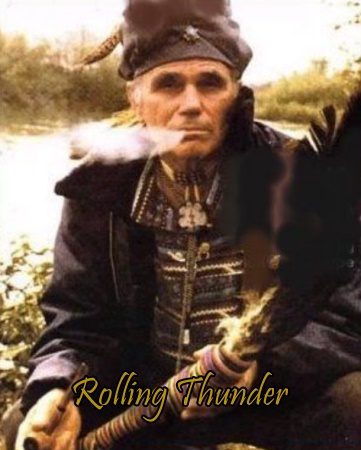 Just Listen to the Thunder
Presented by DJ Mackboogaloo, a youth's guide (teaching manual) to Native American spirituality via a dialog (interview) between an elder & youth. Based upon interview transcripts & write-ups on the traditional elder… Rolling Thunder (Cherokee).
Rolling Thunder was a Native American medicine man. He was born into the Cherokee nation and later moved to Nevada and lived with the Western Shoshone.
We Must Gather Our Nations
Written by Michael Bastine & DJ Mackboogaloo, Mad Bear and the red road of Spiritual Activism Hopi–Iroquois led… AMERICAN INDIAN UNITY MOVEMENT (1950's–1980's). Lost history the Bureau of Indian Affairs (BIA) does not want you to know.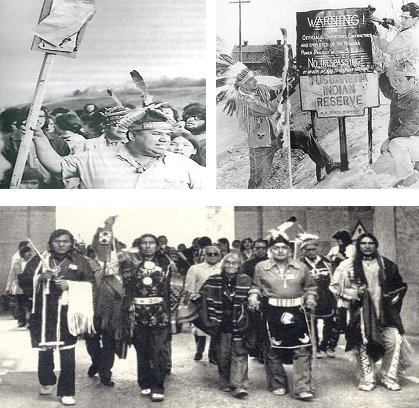 The hidden and magical meaning of numbers and letters. The science that deciphers the cycles through which the human being goes through. Numerology is a science that helps us know how to make decisions at specific moments in our life. 
Conscious Youth Global Movement
CYGM is inspiring the Youth to create artistic content that is "Conscious"; meaning it has an inspirational "upbeat" message that is morally or spiritually elevating; speaks to the heart, mind, body and soul. These messages foster personal development & leadership skills, which are a great benefit to the community.
Portions of  Ted's portrait photography and graphics on this site, were created by Benjamin Thomas, of NY Imagery Fine Art Photography & Design.
Dedicated to The Continued Advancement of World Health Through Healing Body, Mind, & Spirit of All Creators Manifestations!
This gifted artist has long been a good friend of Ted's for many years. We love his work and think you will also. Please take a look for yourself!
Tayannah is a Tarot Consultant, Author, Rootworker, cultural anthropologist and scholar of history of religion, mysticism and the esoteric. 
The background image on our home page was painted by a very talented artist, Natasia Mukash.  You can visit her at the link above.
humankind
Mind – Body – Spirit
"All things human" – This organization will be providing content and events to help with personal growth by providing education on inner balance, spiritaul awakening, and meditation techniques.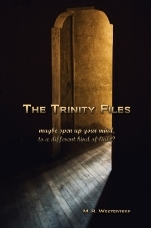 The Trinity Files show us how to connect with our own Spirit and discover the vast knowledge that each and every one of us possess, but have locked away. It shows us how to resolve conflict in our lives. It shows us that we are never alone. It shows us compassion for our fellow beings. It explains why we are here.  This isn't a self-help book, it's self awareness, there's a difference.
Bertie County: An Eastern Carolina History
This is the story of the Native Americans, gone from the county for 200 years but for arrowheads and other artifacts. It is the story of the African slaves and their descendants and the chronicle of their struggles through slavery, the Jim Crow era, and the Civil Rights Movement. It is also the story of the Europeans and their rush to tame the wilderness in a new land. Their entwined history is clarified in dozens of new maps created especially for this book, along with vivid illustrations of forgotten faces and moments from the past.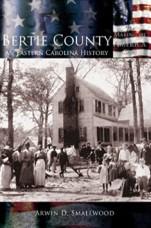 I Am Savage: We are the Warriors history never told you about
by Lovell Pierce Jr.
Living In The Tall Grass,
Poems of Reconciliation
by Chief R. Stacey Laforme
Journeying Between The Worlds
by Eagle Sky Fire
Change Your Thoughts, Change Your Life
by Dr. Wayne Dwyer
A Life In Service
by Mala Spotted Eagle
The Psychic Yellow Brick Road
by Corbin Mitleid
Real Cause, Real Cure
by Jacob Teitelbaum, MD & Bill Gottlieb
Road to the Sundance: My Journey Into Native Spirituality
by Manny Twofeathers
Spiritual Liberation
by Michael Beckwith
Big Medicine from Six Nations
by Ted Williams
Broken Open
by Elizabeth Lesser
And Grandma Said
by Tom Porter
A New Earth
by Eckhart Tolle
Iroquois Culture and Commentary
by Doug George
Native Wisdom
by Ed Eagle Man McGaa
Exiled in the Land of the Free: Democracy, Indian Nations and the US Constitution
by Oren Lyons and John Mohawk
The Thirteen Grandmothers
by Jamie Sams
Thinking Indian
by John Mohawk
The Untethered Soul
by Michael Singer
We provide these links as a courtesy. Links on this page to third-party websites and third-party content are not investigated, monitored, or checked for accuracy, appropriateness, or completeness by us. We are not responsible for any content posted, or potential viral/malware infections to your computers, smartphones or devices, from visiting these external/linked sites. By visiting any of these sites, you visit them by your own free-will and assume all responsibility. To read our full terms & conditions, please visit our Legal, Terms & Policies page, linked at the bottom of this page.